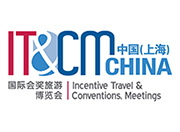 Incentive Travel & Conventions, Meetings China (IT&CM China)
Location : Shanghai, China
First show : 2007
Since 2007, IT&CM China has established itself as China's leading international Meetings, Incentives, Conventions and Exhibitions (MICE) business, education and networking event, dedicated to "Promoting China to the World and the World to China". Bringing together Chinese and International MICE exhibitors and buyers in one dynamic marketplace, IT&CM China is the platform for international and leading Chinese players in the MICE industry to explore business opportunities on all fronts - inbound, outbound and domestic. Co-located with CTW China as China's Only Doublebill Event In MICE and Corporate Travel, IT&CM China is part of the IT&CM Events series. This event is co-organised by CITS International M.I.C.E. - a wholly-owned subsidiary of CITS (China International Travel Service), and MP International.